St Thomas Parasailing Adventure
Caribbean » US Virgin Islands » US Virgin Islands » St. Thomas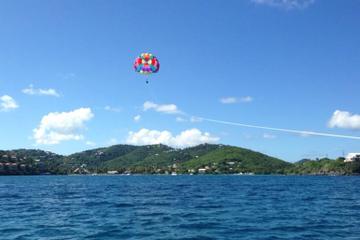 (5.0)
Duration: 30 minutes
Departs: St. Thomas, US Virgin Islands
Price from USD 84.99
Book Now
Take in bird's-eye views of St Thomas on this parasailing adventure from Red Hook or Charlotte Amalie, a perfect adrenaline-pumping activity to share with family and friends. Choose a solo session, or go as a trio on a ride that has you sailing over white beaches, rolling green hills, charming architecture and the warm waters below.
Meet your parasailing crew at one of two convenient departure points in St Thomas: the docks behind a restaurant in Red Hook or Havensight cruise docks in Charlotte Amalie. Climb aboard your US Coast Guard-certified commercial parasail vessel with state-of-the-art winch systems. While a number of parasailing tours can be found in St Thomas, rest assured that your experienced crew — with a longtime perfect passenger safety record — places your safety on equal footing with providing you with an experience of a lifetime.

Your professionally trained and certified captain speeds you out to open waters, where you'll receive a safety briefing for your 7- to 9-minute ride in the sky.

Prepare to go up solo, double up with a companion, or grab two friends and fly as a trio. Get secured into your harness attached to a rope, and as the boat pulls ahead and your parasail balloons, float up 800 feet (244 meters) into the azure skies above; then hang high in the air.

Depending on where your captain navigates your boat, your aerial views may include picturesque beaches, the red-tiled-roof homes dotting Red Hook's green slopes overlooking Pillsbury Sound, the Dutch architecture and coastline of Charlotte Amalie, and the island of St John. Look down and you just might see marine life streaking through the waters below. Try a 'free fall dip,' a controlled dip in the water before you land like a feather back on the boat.

While you're up in the air, a crewmember on board takes shots of your adventure with a professional camera and telescoping lens — giving you perfect vacation pics to post on Facebook. Photo packages are available for purchase after the tour.

Your tour ends with a trip back to the departure point. Total time on the boat is 30 minutes.
« All Activities