St John Round-Island Snorkeling Tour from St Thomas
Caribbean » US Virgin Islands » US Virgin Islands » St. Thomas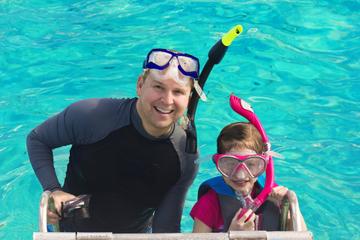 (5.0)
Duration: 9 hours
Departs: St. Thomas, US Virgin Islands
Price from USD 249.99
Book Now
On a day trip from St Thomas, circumnavigate neighboring St John on a small-group boat tour limited to only six guests. This relaxing and fun-filled tour takes you by comfy catamaran to several of St John's beautiful bays and cays, including Waterlemon Cay, Maho Bay and Coral Bay. Cruise along the coastline of Virgin Islands National Park; stop four times to snorkel with tropical fish and sea turtles; and visit a floating bar. Light snacks and drinks are provided on board.
Meet your captain at Compass Point Marina on the southeastern end of St Thomas to begin your full-day boat tour around St John. Hop aboard the comfortable, 32-foot (10-meter) catamaran and take off into the sparkling turquoise water.

Head east across Pillsbury Sound to St John, where you'll cruise along the island's north coast — most of which is part of Virgin Islands National Park — to your first stop, Whistling Cay. Jump into the water here for a snorkel on the coral reef (equipment provided), and then get back on the boat to continue to Maho Bay, where you'll hop in the water again to snorkel with sea turtles.

Back on the boat, cruise through Drake's Channel, which separates St John from the British Virgin Islands, and pull into Waterlemon Cay to snorkel on another coral reef. Then continue along St John's shoreline, turning south and pulling into Coral Bay, a large bay on the eastern side of the island. Make a stop in Coral Bay to have lunch and visit a tiny floating bar; you may purchase lunch, or eat the packed lunch you brought with you on board (lunch and any drinks from the bar at your own expense).

After lunch, head to the southeastern tip of St John — a rocky cliff known as Ram Head — and continue west to Booby Rock for your fourth snorkeling session. Finally, stop one last time at Salt Pond, where you can chill out on the beach for a bit before making the final stretch along St John's southern coast. Cross Pillsbury Sound again to reach the marina on St Thomas.

Between all of your stops, simply relax on the boat, work on your tan and enjoy the warm sea breeze. Light snacks are included, as well as drinks (rum punch, beer, soda and water).
« All Activities